Online reviews have become a vital part of running any type of small and large business. Just as people check yahoo local for business review or top rated services and events, online reviews have a place in any business, from eCommerce sites to blogs to educational sites and so on. Having positive online reviews not only helps your company stand apart from your competition but also makes your online presence.
Online review is the integral part of eCommerce business so if you are considering starting your own store, then chances are you already run into this struggle at some point so choose the eCommerce platform like Magento that withstands the current trends.
However, you need to determine where you can find these reviews so you can monitor them. Yahoo is not only places on the web where people leave reviews. It's up to you how to monitor your brand everywhere online by looking at all of the well-known review platform customers are taking. Your reviews strongly influence many buyer's decision-making process and impact on your search engine rankings as well. Here are the 9 must-get-reviewed on platforms for your businesses.
Losing even a single customer can be very costly. It's critical for companies to turn a complaint into a positive for the customer and for the company moving forward.
The Better Business Bureau is known as a nonprofit organization that have their own standards and own process for reviewing a company. They consider customer reviews mainly because the BBB places a best on how business should act toward the public.
With using BBB, it's more about location than something else. When you go to the homepage of the BBB website, the first thing they ask for is your city, state or postal code. Known with their high standards, the BBB is the authorized review sites. They don't directly recommend or endorse any businesses, products or services, they just provide the information on their site about businesses to the public.
You can see a business profile listing on BBB includes general overview information like short company bio and company's accreditation status, a history of any complaints made about the business and whether they were resolved.
---
Are you looking to establish an online reputation through positive reviews for readers? Angie's list is must. This is the excellent website for review collection for your business. You can create your business account on this website and encourage people to review on it. It's a paid for the customer and only membership customers can review on it. Therefore, there's a more chance to get quality reviews on your business.
Angie's list is one of the most well-respected online directories for services and known for its ability to offer perfect and trust-worthy reviews for readers. It has a check and balance system that monitors and looks into reviews to ensure companies and employees are not posting about themselves or their own products. However, companies have the opportunity to protect themselves and respond to any reviews posted on Angie's list.
---
Yelp is popular and trusted business review site on the internet for consumers to discover a top-notch review. Yelp is the best place to tap the world into word of mouth advertising. You can easily search any product on this platform and you can select the excellent product or service based on these review. You can also rate your products on this platform.
Yelp also allows paid ads for businesses to be featured to the community and therefore increase visibility. In addition to business reviews, you can find events, lists of local businesses and connect with other "Yelpers." Every business owner can create a free Yelp for business account and can update their business information and reply to reviewers.
---
Google provides the option for people to place reviews about businesses and these user's reviews about any businesses will help both companies and people. For example if you type storage and movers into Google, you will see the closet place to you as well as you'll see rating on a five-star scale option to check reviews.
If you want to post a review then you need Google+ membership to post a review, but still it can be valuable for your company to measure where you stand in public eye. In Google review you have the option to write a review or view all Google review.
---
Trustpilot is a consumer review website for eCommerce reviews. Here you can get real stories from online shoppers. However, you can read, write and share review at here. This is the well-known website for business reviews.
Most of the reviews on this website are offered by genuine users and helps the other people in getting real information about any products or service. Anyone can write the review on Trustpilot just you need to create an account with your email address or Facebook account to authenticate the user.
---
Yahoo local has a business reviews, top rated services and events. Just like Google, here you can also post a review for any business. Yahoo is also reliable business review website where people can post and search for reviews of products they have used or they want to purchase.
Yahoo local also verifies every business that lists itself and ensures it is local. It allows users post a review of businesses with the five-star rating system. Yahoo Local is a great addition to your online local strategy. Getting started and free and it isn't complex to set up and manage a Yahoo Local account. When it comes to Yahoo local, it is important to get involved with in order to increase your online visibility to local searchers. It's very easy to manage and easy to create.
---
MerchantCircle is an online directory that facilitates small businesses to connect with local customers and other local small businesses. It provides free marketing tools so that you can build your business. Many businesses looking for the best and great thing so selecting the best is most important for all. So, you can find and check the business on your level best.
MerchantCircle also allows you verify your account and assigns you a score from 0 to 100 being the best on review and a variety of other factors that can set you apart from others.
---
A consumer report offers reviews and ratings on different products from electronics to appliances. Additionally, it offers multiple outlets for reviews that include video, polls, images and news article. It is very handy to use and lets you search reviews by different category and you can sign up for your own account to customize your interests and organize all of the products you have searched for reviews in your history.
It also uses a five-star rating system with their users so you will get the quick review to each company or products. Consumer report actually takes reviews from all over the web and collecting them all in one place for convenience.
---
City search is a free and user-generated review site that operates via a five-star rating system. People can navigate to their local city search to check out your reviews and compare you with competitors, it's more likely a Citysearch review will pop up in a search engine and you can see below. You can get a free listing and easy to update your profile once you are listed in their search results.
Citysearch provides the opportunity to vote their favorite businesses in popular categories. It opens up annual polls with nominations from editors. During the voting period to the site cast votes for their favorite local business and when the polls close the top ten business in each category are revealed to their cities.
Bonus
Local.com is also a free business directory and it offers complete information about everything going on in their city, including events, activity, deals and information on popular businesses. With over one million searches for products and business a day, it is definitely not a site to be missed.
You can create your listing, add the description, picture and add your website to be found locally. In addition, you can feature your listing to appear in the top of the search results. Here you can add coupon to attract more consumer as well as additional advertising option available so you can easily expand your business.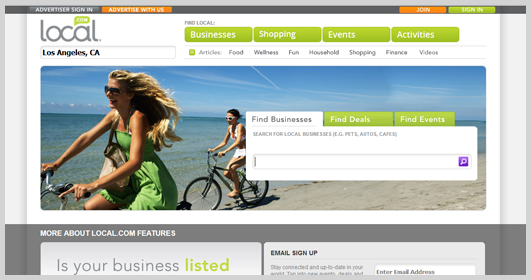 Consumer reviews are an essential part of your local online marketing, because they make your business look visible and credible and get you better search engine result page appearance. Getting your business some genuine reviews on the above-mentioned platforms will build your reputation and get you more customers.
Jimit Bagadiay is a CEO of Creative Glance Technologies and Co-Founder of SocialPilot.co. He enjoys exploring new tools, writing on social media marketing practise and technology trends.
Latest posts by Jimit Bagadiya (see all)